Healthcare Uniforms and Apparel
Medical facilities looking for a professional-looking, comfortable, and always-clean way to keep employees warm can look to PerforMAX Warmups provided by CLS. Medline's PerforMax garments provide unparalleled comfort with the highest level of professional appearance of healthcare jackets on the market today. Securing them through CLS Image is a convenient and reliable way to ensure a ready, safe supply of warm-up jackets for staff.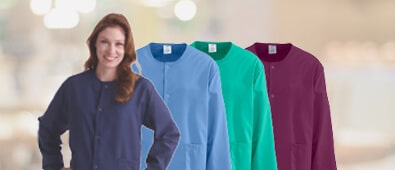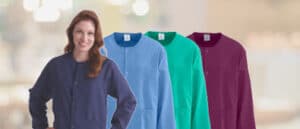 Why PerforMAX Warmups for Your Healthcare Staff?
PerforMAX Warmups perform well in medical environments and provide the comfort healthcare staff needs. The fabric is soft, lightweight, and breathable, so wearers stay cool under pressure. Here's what else:
Professional-Looking Warmups
The appearance of healthcare staff is an indicator of professionalism and an indicator of care quality to patients. Ensuring that garments worn by staff, whether their scrubs, footwear, or jackets, presents professionally is essential to the confidence of patients in their recovery.
Comfort and Range of Motion
PerforMAX Warmups offer comfort and ease of movement to healthcare staff. This is important for medical professionals on their feet for long hours and benethe range of motion afforded by PerforMAX helps them perform their best during these periods. 
Stain-Resistant and Safe
Stains and microbial contamination can be a hazard in medical environments. With PerforMax garments, CLS Image ensures that our materials keep staff safe and preserve the clinical environment. This increases the safety of both staff and patients.
Reliable Apparel Cleaning and Maintenance
By using CLS Image, medical facilities can be sure that their garments are clean and well-maintained. PerforMax warmups sourced through us will remain professional-looking while providing comfort and cleanliness.
Why CLS Image for Your Healthcare Warmup Needs?
Thanks to CLS's experienced and effective cleaning process, our warm-up jackets arrive at your facility free of contamination and stains, even after multiple wears. And since CLS is a full-service partner that provides laundry services onsite or offsite, you can rest assured that warmups will always be available when needed.
Contact CLS for PerforMAX Warmups Reliably Delivered
CLS Image provides a reliable and convenient way to secure the needed supply of PerforMax warmups for your healthcare staff. Contact us at (800) 875-4636 or leave your contact information here and a representative will be in touch shortly.