No business should have to worry about dirty floors driving away business. Get better protection for your floors with innovative mats for your Michigan business. Their design and construction measure up to the hardiest and busiest businesses. Get them only from CLS!
CLS's Michigan mats are your all-weather, indoor-outdoor floor care and protection solution for your business's floors: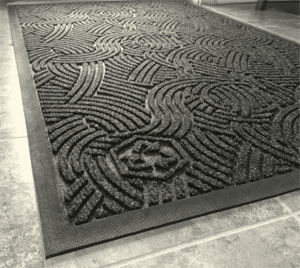 The Cleanest Floors with the Best Floor Mats. CLS's Michigan mats keep your floors clean. Our mats feature an innovative water dam border that allows them to hold more dirt and moisture than the average commercial floor mats. Michigan mats also feature raised nubs on the surface. They not only help remove dirt, debris, and moisture from the bottoms of shoes. They also make sure these impurities stay inside the mat, so they don't end up on your floors.
Indoor and Outdoor Use. Michigan mats from CLS also come with highly absorbent surfaces. This means that they are the most ideal addition to your entryway floor mat layers both indoors and outdoors.
Durability and Overall Quality Ensured. CLS's Michigan mats are made of 100% recycled PET surface with a strong, nitrile rubber backing. This makes them resistant to crushing for long-lasting, heavy-duty use with added slip and fall protection.
Floor Mat Maintenance Excellence. Renting your floor mats from CLS? We'll take care of them too! CLS uses top-notch floor mat maintenance technology and proven expertise in floor mat cleaning and care. Your floor mats are always in their best shape with CLS.
Size and Color Options Available. Michigan mats come in Black Smoke and Chestnut Brown color selections. They also come in the following sizes:
CLS: Your Michigan Commercial Floor Mat Partner
CLS makes it easy. We do everything excellently. With CLS, you can trust that your floor mats are clean, high-quality, safe, and always in their best condition. Additionally, with our friendly prices and even friendlier customer care team, you know you're in the best hands with your Michigan commercial floor mat service.
Download Now Our Product Catalog!
Download Now Our Product Catalog!