Distinguished brands deserve a superior look.
The new Epik line of soap, paper towel, toilet tissue, and odor control dispensers provides a modern, clean, and colorful presentation in an unexpected place.
Establishing signature brand colors is one of the easiest ways to get your brand more easily identified, and the Epik line of dispensers' sleek design and bold colors is the perfect complement to any company's brand identity.
Tab #2
Tab #2
Tab #2
Tab #2
Tab #2
Tab #2
Tab #2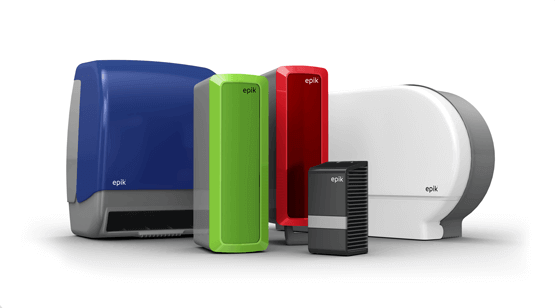 Tab #2
Tab #2
Tab #2
Tab #2
Tab #2
The CLS Epik Image Program Includes:
Automatic deliveries of paper, soap, and air care
Free batteries
No ordering, no worries, no maintenance. Your trusted route sales professional handles it all
Paper Dispensers Automatic Hands-Free
Automatic, touch-free dispensing prevents cross-contamination for a more hygienic experience
Controlled, one-at-a-time dispensing minimizes waste and reduces paper costs
Adjustable settings for sheet length and dispensing time control usage
Batteries included with CLS service
White luxury paper yields better absorbency and hand drying efficiency resulting in reduced consumption
Excellent dispensing strength and performance
Reduce labor costs associated with refilling dispensers
Easy to use and install
High capacity dispenser holds two rolls 9" in diameter (equivalent of 11.5 household rolls) for continuous service
Sliding door reduces stub waste by restricting access to second roll before first roll is used up, reducing costs
Locked design protects against pilferage, reducing costs
Durable, hygienic dispenser encloses tissue to limit exposure to bowl splash, improving hygiene
3.3" x 1,000' rolls
2-ply
Smooth and absorbent
Extra-large jumbo roll design
Auto Soap & Sanitizer Dispensers
ADA Compliant
Compact Foot Print
Easy Bottle Loading
Batteries included with CLS service
ADA Compliant
Compact Foot Print
Easy Bottle Loading
Offers 60 days of odor control
No batteries or power needed
Casing discourages vandalism
Sleek and discreet design that fits any decor
Scents: Naturally Clean, Tropical Paradise, Cherries Jubilee, Green Apple
Covers 6,000 cubic feet
Scents rotated quarterly to keep facilities smelling fresh
Download Now Our Product Catalog!
Download Now Our Product Catalog!