Entry, Logo
and Anti Fatigue Matting
Entry, logo and anti fatigue matting
In today's fast-paced and demanding business environment, maintaining cleanliness, safety, and a professional appearance that upholds the standards in the modern era is paramount to staff and customer safety. 
CLS understands the unique challenges faced in various industries, including industrial, healthcare, restaurant, food service, and hospitality, and how they demand unique solutions to remain at the forefront as an industry leader. As a premier provider of high-quality mat solutions, CLS offers customized and innovative products to meet the specific needs of your business, no matter your industry.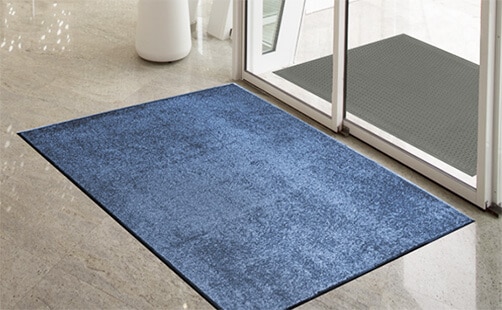 Whether it's providing superior traction and durability for heavy-duty industrial environments, ensuring hygienic and slip-resistant surfaces in healthcare facilities, or offering comfort and cleanliness during restaurant busy hours, CLS has a mat solution tailored for you. These include logo mats, Michigan mats, SuperScrape Plus mats, brush mats, comfort flow mats, image mats, and complete comfort mats. We sport the versatility that ensures you'll find the perfect product for you.
CLS mat solutions maintain a clean and safe environment and contribute to a more positive and comfortable experience for your employees and guests. We pride ourselves on utilizing the latest and greatest to deliver high-quality mats that add value to your business in profound ways.
Invest in your establishment's cleanliness, safety, and overall appearance with CLS's comprehensive mat solutions. Our team of experts guides you through selecting the perfect mat for your specific needs. We work with you to create a lasting impression on everyone who walks through your doors.
Logo mats are an excellent way to promote brand awareness and ensure cleanliness and safety for your establishment. With their high-quality materials and non-slip backing, logo mats provide a safe and attractive solution for your business. 
CLS offers custom logo mat services, which means you can have your company's logo or any desired design printed on the mat. This is an excellent opportunity to make a lasting impression on your visitors while keeping your floors clean and dry. We merge the best of style and function across our entire catalog. Brand identity fosters recognition, differentiates businesses, conveys values and personality, builds trust, enhances customer loyalty, drives growth, supports marketing efforts, elevates perceived value, and ultimately boosts long-term profitability and success.
Michigan weather can be unpredictable, with rain, snow, and mud often an appearance. That's where the Michigan mat comes in, designed to withstand harsh weather conditions. These all-weather mats are durable and long-lasting. This shows consideration for your bottom line with a cost-effective solution. The raised surface pattern helps to capture dirt, moisture, and debris, keeping your floors clean and dry. The slip-resistant backing ensures safety in high-traffic areas, making Michigan mats an ideal choice for any commercial or residential setting.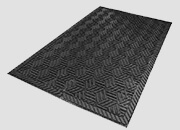 SuperScrape Plus mats are designed for heavy-duty use in industrial environments and high-traffic commercial spaces. These mats feature an aggressive scraping surface to effectively remove dirt, debris, and moisture from shoes. 
With their durable, slip-resistant rubber construction, SuperScrape Plus mats are rugged enough to withstand nature's extreme conditions. They are resistant to oils, chemicals, and sunlight. Perfect for outdoor use, these mats are easy to clean and maintain, ensuring a clean and safe environment.
Brush mats offer an excellent combination of performance and aesthetics for your business. The unique brush design scrapes dirt and moisture from shoes, keeping your floors clean. Minimize the ever-present risk of slips and falls, which are capable of quickly derailing your operations. 
Made from high-quality materials, brush mats are durable and long-lasting. They are suitable for indoor and outdoor use, making them a versatile choice for any space. In addition to their functionality, brush mats are available in various colors and designs, allowing you to choose a mat that complements your décor.
Comfort flow mats feature an unrivaled level of quality. They provide a safe and comfortable surface for employees who stand for extended periods. These anti-fatigue mats boast a cushioned surface that reduces strain on legs, feet, and back, improving worker comfort and productivity. 
Comfort flow mats have excellent drainage properties, making them ideal for wet environments such as kitchens, bars, and industrial facilities. With a slip-resistant design, these mats help facilitate and encourage a safe and clean working environment.
Anti-fatigue mats from CLS offer numerous benefits to your businesses and employees. These mats alleviate the physical strain on those who stand for long periods by reducing discomfort and fatigue in the legs, feet, and lower back. As a result, employees experience improved comfort, enabling them to optimize productivity, 
In addition to their cushioning properties, CLS anti-fatigue mats provide a slip-resistant surface, ensuring a safe work environment. Their durability and easy-to-clean design make them ideal for various industries, from manufacturing and food service to retail and healthcare. Choose CLS anti-fatigue mats to promote a healthy and efficient workspace.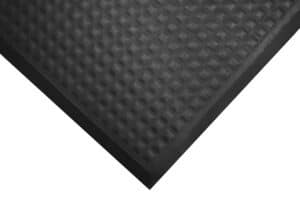 Image mats are an innovative way to personalize your space while providing the same cleanliness and safety benefits expected across our mat catalog. CLS offers custom image mat services, allowing you to have any high-resolution image printed on the mat to elevate your aesthetic and showcase the ideal image you strive to project.  
This option is perfect for businesses that want to feature their products or services, create a welcoming atmosphere, or add a touch of creativity to their space. Image mats are made from high-quality materials and feature a non-slip backing to ensure safety.
Complete comfort mats are the ultimate anti-fatigue solution and prioritize maximum support and comfort for employees who spend long hours standing. These mats are made from a high-density foam material that offers excellent cushioning, reducing the pressure on joints and muscles. With their beveled edges and non-slip rubber backing, complete comfort mats ensure a safe and accident-free work environment.
Complete comfort mats are resistant to chemicals, oils, and grease, making them suitable for a range of industries, including manufacturing, food service, and retail. They are also easy to clean and maintain, ensuring a hygienic workspace.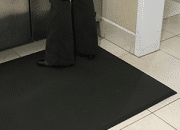 As a TRSA-certified Clean Green production facility, we demonstrate our steadfast commitment to sustainability and environmentally responsible practices in the production and delivery of our mat services. This certification recognizes companies that honor strict standards of resource conservation, environmentally-friendly production processes, and efficient delivery methods.
By choosing CLS for your mat services, you support a company that values sustainability and eco-conscious practices. The Clean Green certification means that CLS's production process is efficient in water and energy use, minimizing waste and pollution. By utilizing advanced technology and equipment, we optimize operations to reduce our carbon footprint. Champion a greener, cleaner future for our planet.
CLS uses green delivery methods. Specialized delivery routes and a modern fleet of delivery vehicles help minimize fuel consumption and reduce emissions. We actively recycle products and packaging materials, further reducing waste and promoting a circular economy.
The TRSA Clean Green certification is a testament to our dedication to sustainability. Partnering with CLS makes a powerful statement to the communities you serve that you evolve alongside rapidly changing technologies and best practices to reflect the innovations of the 21st century. This positively impacts your business's reputation and contributes to a more sustainable future that the next generation can be proud of.
Unmatched Customer Service
At CLS, we understand that products are only as strong as the people behind them. The CLS customer service team comprises seasoned experts, ensuring clients receive exceptional support and guidance. With extensive knowledge and experience, we are well-equipped to meet your questions and concerns with tailored solutions to meet your unique needs. 
CLS's customer service team fosters long-lasting relationships with clients. We bring personalized attention and prompt responses to any issues around the clock. By partnering with CLS, you can trust that you are working with professionals who understand your industry's requirements, delivering unparalleled service and satisfaction.
Choosing the right mat for your space is essential to maintain cleanliness, safety, and appearance. CLS offers mat services that cater to your unique needs. Each mat type flaunts unique features and benefits. Rest assured that with CLS in your corner, you're empowered with real solutions in the form of exceptional products that are second to none.
With high-quality materials, attractive designs, and exceptional performance, CLS mats are an investment in the comfort and safety of your employees, visitors, and customers. Contact the CLS team at (800) 875-4636, or email us to learn more about our mat services and how to find the perfect solution for your space.
Download Now Our Product Catalog!
Download Now Our Product Catalog!