Restaurant and Hospitality Linens
Hospitality napkins are a common necessity that often aren't given as much thought as they deserve. Many will settle for poorly-made napkins because they are inexpensive and serve their purpose well enough. However, for hospitality businesses that want to stand out, they need a brand that does the same.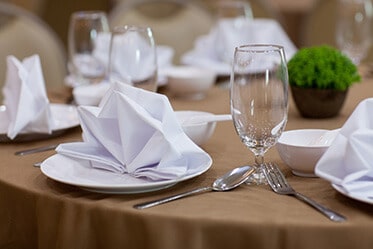 CLS is the Market Leader in Next Generation Hospitality Tablecloths
CLS has been in the business of supplying hospitality napkins since 1899. In that time, we have perfected the art of making reusable napkins. We are your best choice for several different reasons.
CLS understands the importance of customization when it comes to providing for our customers. We offer a selection of stock colors like traditional white and black to red, blue, and yellow. Every business comes in a variety of colors so they'll need that same variety of options when it comes to napkin appearance.
The Most Efficient Way to Secure Your Hospitality Bar Towel Supply
CLS napkins treat guests to an upscale experience. Simple paper napkins can't come close to the quality cleaning and smooth feeling that comes with using our products. Each is durable and withstands just about anything guests can put them through. They are a luxury experience that is available for just pennies a serving.
Commercial Laundry Service
Our napkin service comes with access to our state-of-the-art commercial laundry facilities. There, we thoroughly track every item so that they meet the highest standards in the industry. Stains and other materials are completely washed away while rips and tears are mended and even fully replaced at no additional cost.
Contact CLS Today for the Best Hospitality Napkins in the Industry!
If you're looking for quality hospitality napkins then look no further than CLS. No paper product can stand up to the variety, affordability, and cleaning that our premium service offers. Contact us today at (800) 875-4636 or fill out this form for a free quote.
Download Now Our Product Catalog!
Download Now Our Product Catalog!