CLS Paper and Soap Dispensers
Paper Towels and Dispensers
Our paper towels are soft and comfortable to use, yet strong and highly absorbent for fast drying. These towels are durable, and won't crumble in your customers' hands.
Our touch-only paper dispensers reduce cross contamination, and our paper towels are 100% recycled for both performance and the environment. Perforated, center-fed rolls are designed for reliable portion control that will save you money.
Additionally, we offer both small and large roll options to meet your space requirements. CLS is here to accommodate you!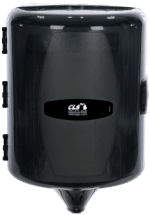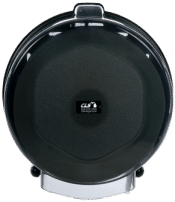 Toilet Tissue and Dispensers
Our toilet tissue is environmentally-friendly, and is made from 100% recycled materials. Our toilet tissue is soft, comfortable, and water soluble. They biodegrade to protect sewer systems and prevent clogged toilets.
Jumbo-sized rolls can reduce labor costs, but both large and small options are available to fit the needs of your facility. CLS also carries standard toilet tissue and paper roll towels if you prefer. Whatever you need, CLS is here to assist you.
The CLS Touch-Free System includes:
Touch Free Foam Soap These modern dispensers come with a concentrated foam soap formula for effective cleaning.
Lotion Soap with Moisturizers These dispensers are ideal for luxury business spaces like salons and spas. They have specially-formulated moisturizing and cleansing soap that cleans effectively without being harsh on the skin.
Antibacterial Soap The pH-balanced formula of our antibacterial soap meets the NSF E2-rated standards required for food handling. This soap is formulated with a powerful antibacterial formula that kills 99% of germs, but is also gentle on the skin.
Touch Free Paper Dispenser The Hygienics Sensor Dispenser is effective, easy to maintain, and is designed to prevent overuse and paper wastage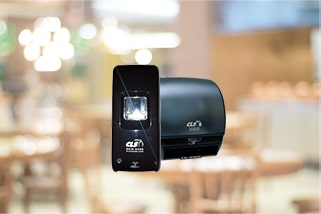 Provide the best protection for your employees and patrons against diseases and infections transmissible by hands including diarrhea and pneumonia. Equip your stores, restaurants, offices, medical facilities, workshops, and other businesses with high-quality hand hygiene products from CLS.
We offer:
Get in touch with us today to learn more about our facility and restroom services. Call (800) 875-4636 or click here to request a price quote.
Download Now Our Product Catalog!
Download Now Our Product Catalog!