Healthcare Uniforms and Apparel
Provide staff the optimal protection with CLS' medical protective apparel supply services.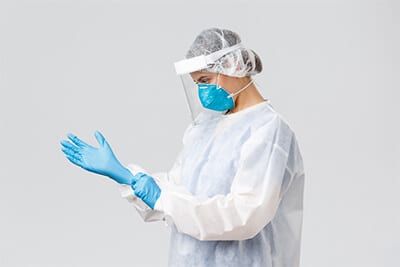 Protective Apparel for Your Healthcare Facility
CLS is your leading choice for protective apparel services in Michigan. We guarantee the most efficient service and some of the highest quality products for your most critical medical apparel needs. CLS offers:
Improved Protection for Your Personnel
CLS gives your employees the best guarantee of protection with our top-of-the-line protective apparel selection. Sourced from the most reliable brands in the industry, our medical apparel lets your employees focus on saving lives without fearing for their own.
Supply Stability Made Easy
Supply shortages can put your employees' lives at risk. It is also very common in the US, where over 90% of linens are tossed out every year before they reach the end of their useful life. Keep up with your needs with CLS' dependable medical protective apparel supply service. Our route representatives are on top of your account's inventory to make sure that your demands are met with efficiency and free from the risks of delays and shortage.
The Professional Uniform Service Support that You Need
Safeguard your employees and patients with the assurance of full-service support for your protective apparel needs. No matter how big, small, or urgent your supply needs are, you can trust that CLS is there to back you up so you can focus on optimizing your patient care.
CLS is an experienced expert in healthcare linen and garment services that fully understands what's at stake. Our highly qualified staff work not only to ensure the quality of each item that arrives at your facility. We also work round-the-clock to make sure that your products arrive on time, so your facility can function at optimum efficiency without disruptions over access to your linen and garment supply.
Get in touch with us today to know more about how we can help your facility, or to sign up for healthcare protective apparel services. Call CLS at 800-875-4636 or fill out this form!